The Inspirational Park
The South Pole Expedition
Viewers may be aware of my service at the world's bottom most corner SOUTH POLE. When I was finally cleared of to be leader and station commander of Indian Antarctic research station Dakshin Gangotri, I went to my native place SANNANALLUR, Tiruvarur District and took a hand full of soil from mother earth at my native place. On reaching Dakshin Gangotri after 24 days non-stop voyage down to South Pole (Antarctica) I sprinkled the earth around the station Dakshin Gangotri and prayed for success of my mission.

No doubt that my 480 days of work at the world's coldest (-89.6 degree centigrade), windiest (350km/hr.) and driest place Antarctica was a great success leading to the award of Vashisht Seva Medal by the President of India on 26 Jan. 1994.

On Completion of my duty while returning, I had brought stones weighing approx. 1 Ton each. These stones were under 5000 metre ice cap and were 50 Million years old.

They had crossed the confluence point of great South Pacific Ocean and great Atlantic Ocean with great Southern Ocean and moved further along great Indian Ocean, Arabian Sea and landed at Goa. From there by road they had travelled to Bangalore, Chennai, Peralam and of course to my native place Sannanallur.

At all these places a concrete pillar of 10 feet high was erected and the rocks were placed on top naming it as Inspirational Park.

This Inspirational Park will inspire the visitor who exerts to achieve greater heights in life. These rocks will demonstrate that human capabilities are unlimited and that no external force can stop his progress. Photos of the inspirational park at different places is shown here.
Madras Engineer Group and Centre, Bangalore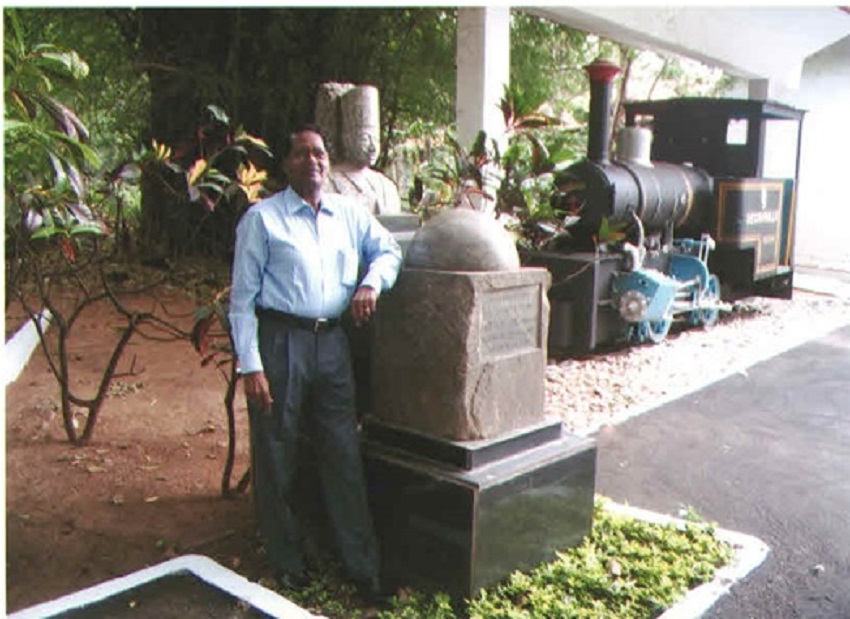 The first stone weighing roughly one and a half ton was placed at Ganesan's Alma Mater Madras Engineer Group and Centre, Bangalore. The stone is half carved as part of globe and Antarctica map engraved. It also shows that the stone had been brought by leader of India's 5th winter team Col. P. Ganesan as a gratitude to his army life.
Peralam, Tiruvarur District, Tamilnadu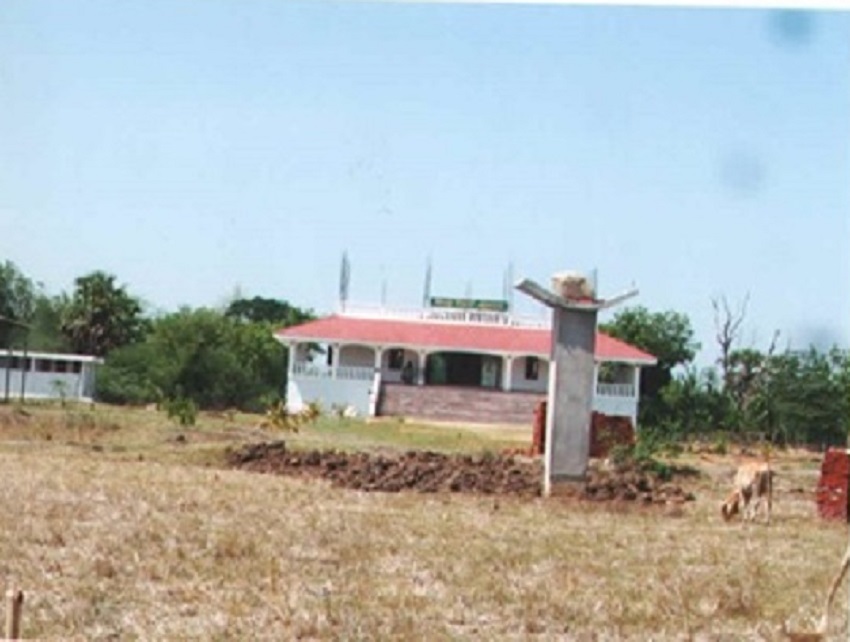 Vedathri Maharishi an ordinary citizen of Guduvancheri suburb of Chennai is today considered to be the genius of 21st century. At Peralam, Tiruvarur District disciples of Vedathri had contributed 10 acres of land and established an ashram. Dr. Alagar Ramanujam (PhD. in Physics) is the head of this ashram. On his request the second stone was placed there. In the years to come a very big platform around the pillar will be established and in moonlight night philosophical talks and discussions will take place. Scholars worldwide will assemble there and discuss Vedathirian philosophy.
Sannanallur, Tamilnadu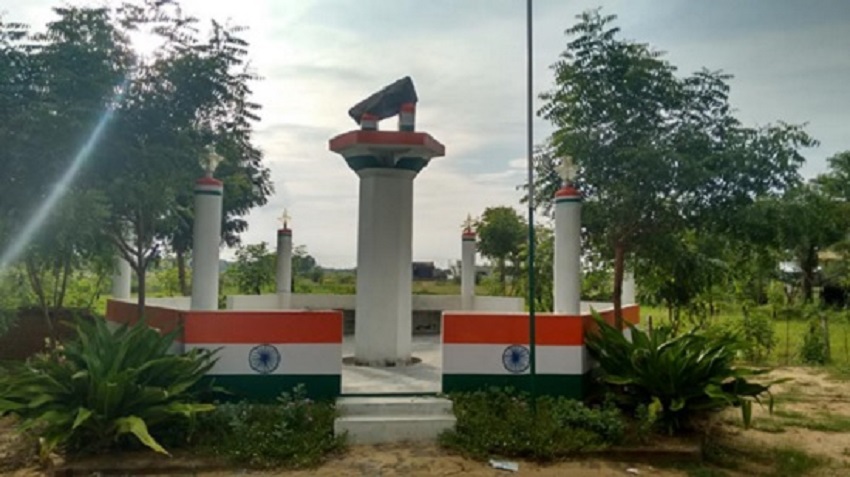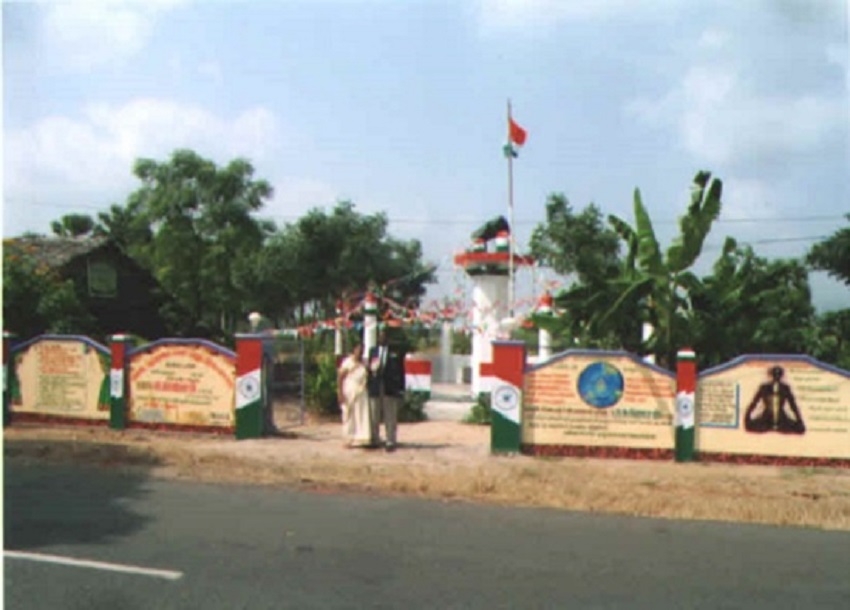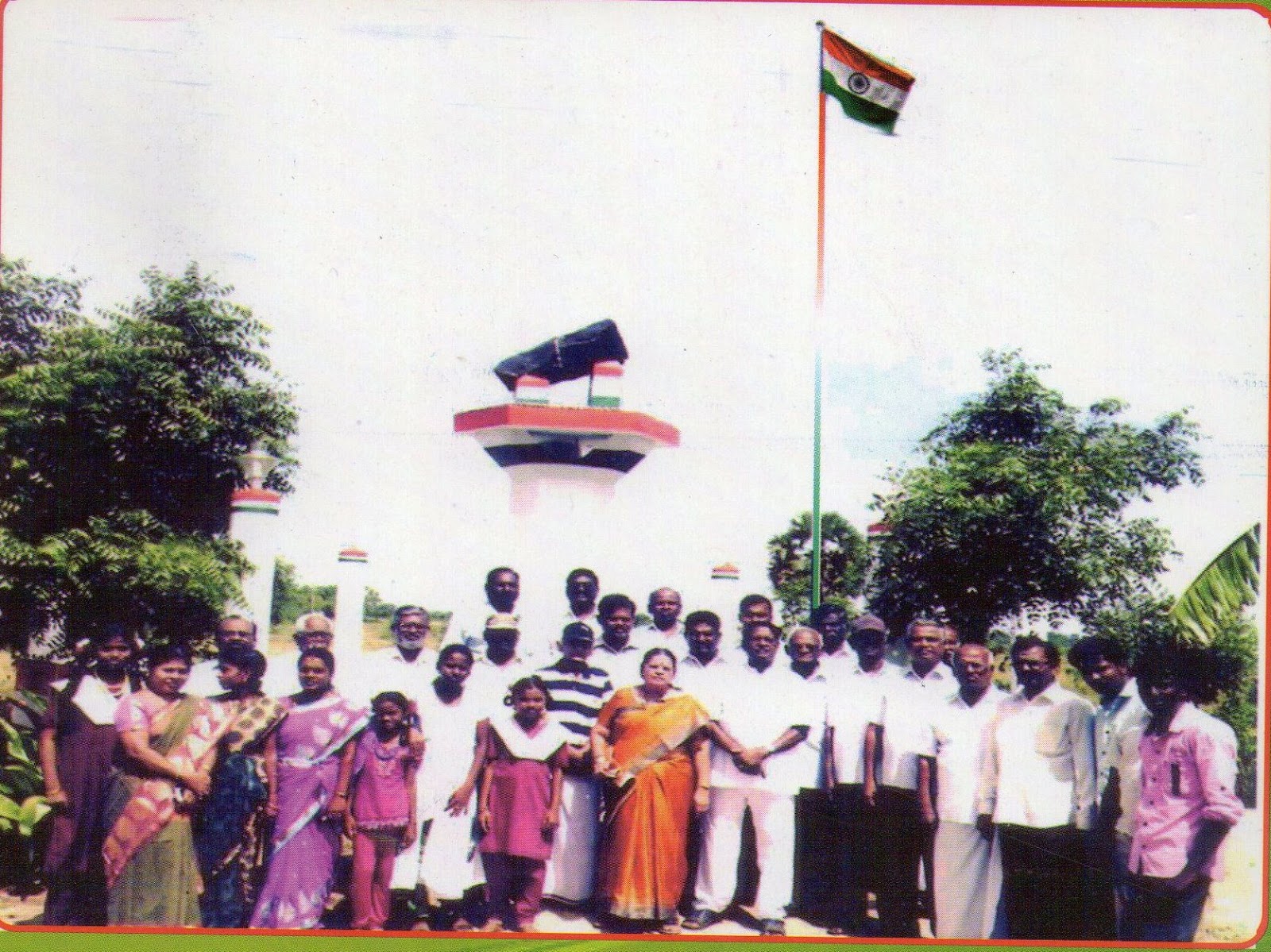 The third stone is placed at Sannanallur, Col. Ganesan's birth place. It is on the side of highway Chennai-Mayiladuthurai-Thiruvarur and in Ganesan's ancestral property. In the years to come a meditation hall, Yoga Centre, free library equipped with spiritual scientific and technical books and periodicals. A book on the future of this place is written by Col. Ganesan and published as "சரித்திரம் படைக்கத் தயாராகும் சன்னாநல்லூர்"(Sarithiram Padaikkath Taiyaraghum Sannanallur) The painting on the wall shows the details.
Anna Nagar, Chennai, Tamilnadu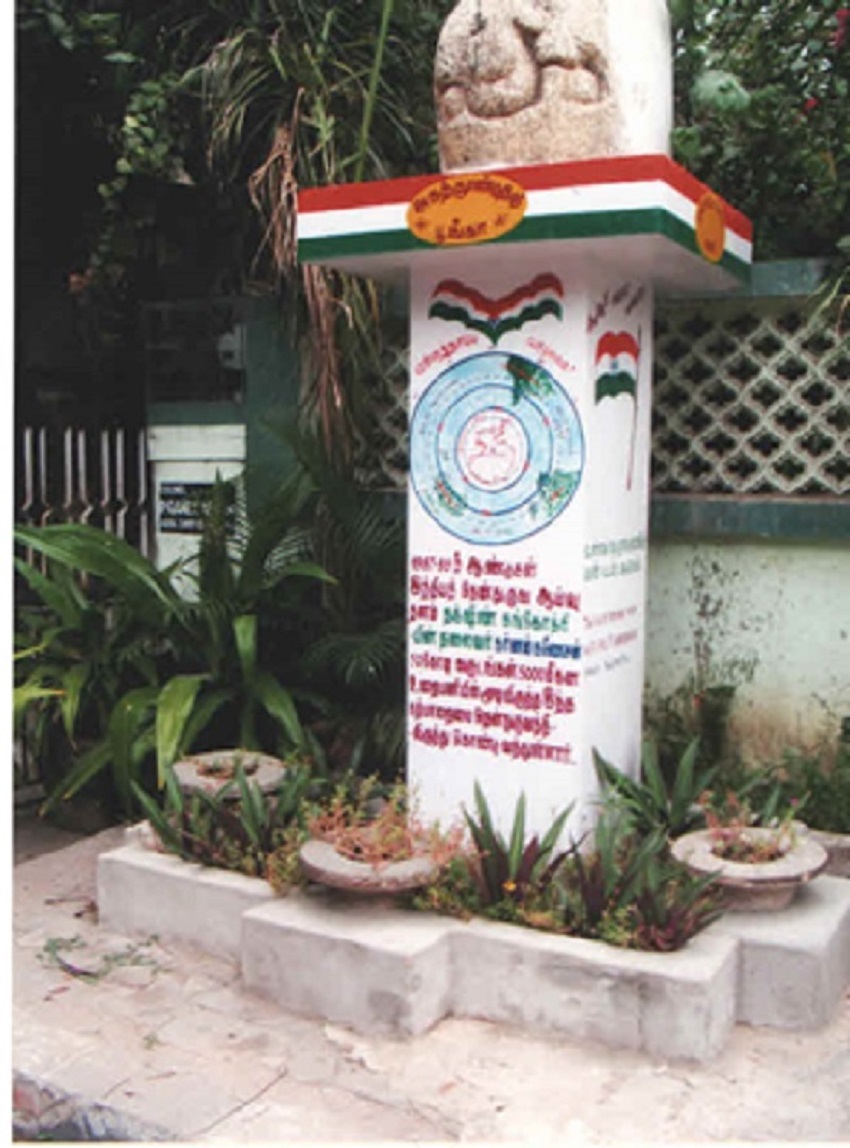 The 4th stone is placed at the entrance of Col. Ganesan's residence, 943 H-block 17th main road Anna Nagar Chennai-40. It will inspire thousands of people passing through this road and confirm to them that "Human capability is unlimited and that no external force can block his progress". Thoughts are dynamic and vital. It actually changes the condition and is creative. Col. Ganesan's life is a standing example to this.
Military Museum of India, Bangalore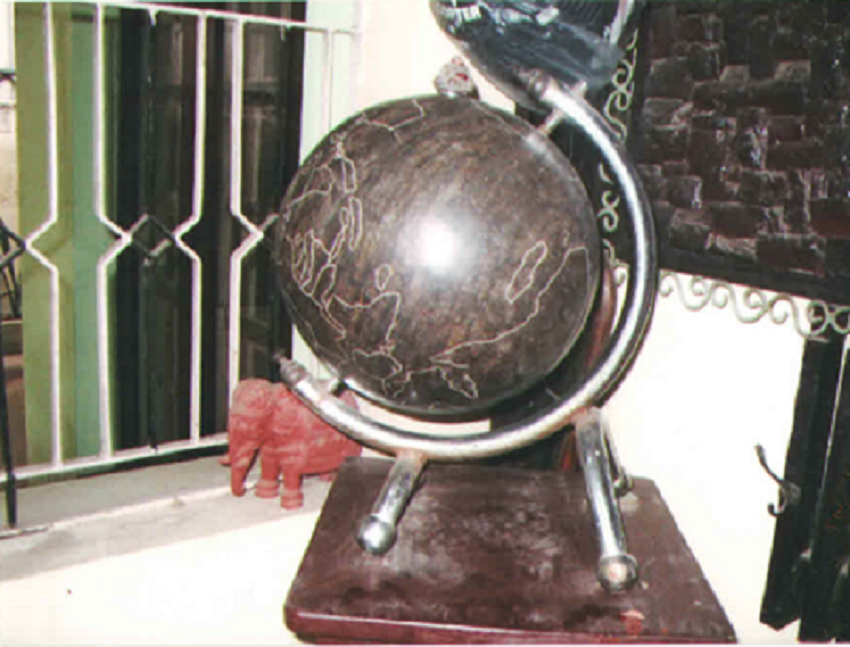 The 5th stone is made as a globe mounted with the help of steel pipes as that of earth mass rotating at 23 and half degree axis leaning to the vertical. Steel ball bearings are placed at North and South Pole locations and the globe will freely rotate as that of earth. This stone was in Ganesan's house drawing room for 27 years. Air commander Chandrasekhar an inspiring elderly gentle men of 84 years old the present chairman "Military Museum of India" located at Bangalore came to know of Ganesan's achievements and requested that placing of a stone at the museum will be more appropriate and inspire millions of visitors for hundreds of years to come. Ganesan accepted his views and donated this piece to the military museum.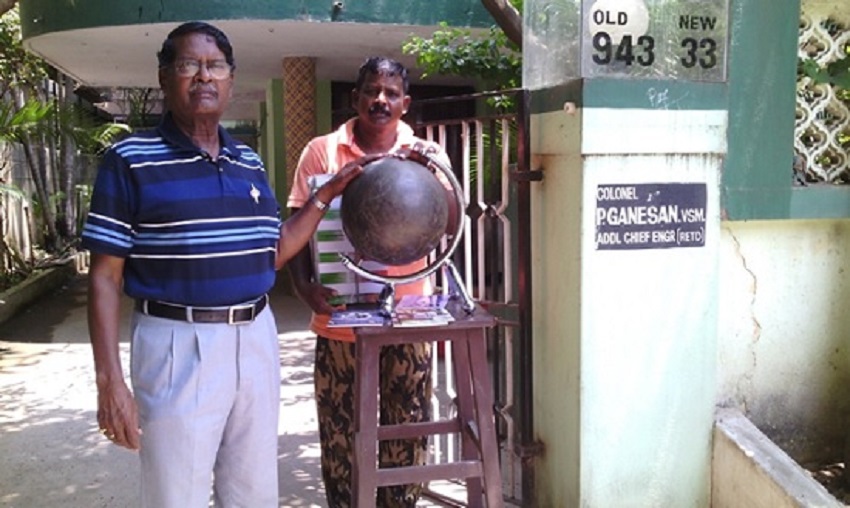 Representatives of Air force station Tambaram came to Ganesan's residence and collected the globe along with two sets of books titled as "Story of the stone", "Sound of Silence and voices of isolation" on 12th April 2016 and on the same day transported to Bangalore by the Air force and placed in the Military museum.
Reflections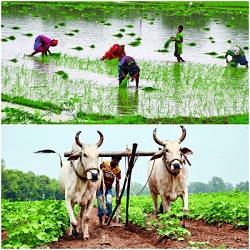 "If India is the spiritual country of the world, then Tamil Nadu will be the Head Quarters to it. Agriculture is the backbone of Indian economy as India lived in villages."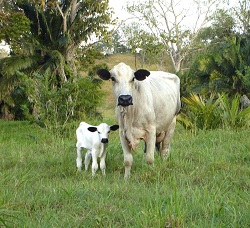 "The prosperity of village was explained by yesteryear's poets like this - The cows and buffalos were taken to the tanks for a wash and swim. While they were in the water, fishes in the pond bit the animals here and there. Thus it would trigger a thought and feeling that calf was trying to drink milk, the animals started responding to feed and milk started oozing out. As the animals got out of water and walked back home, the street was flooded with milk".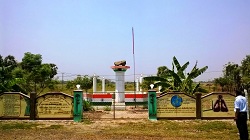 "No wonder, the noble earth of Sannanallur was sprinkled around at South Pole in the later part of my life."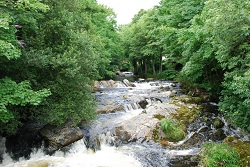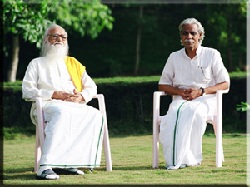 Vedathri an ex-ordinary person by his relentless thought process had put forward to this world that the Cosmic Force of the SPACE was the super power which reacted to our conscience and the oldest generation of mankind had named this force as GOD.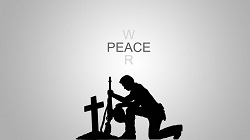 "If you want peace, be prepared for war"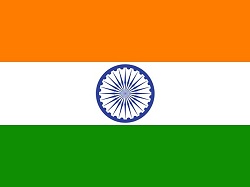 The Army units follow strict rules and regulations. In addition to Indian penal code which law is applicable to every citizen of India, Army personnel are also subjected to Army laws and code of conduct. Further the Army units take pride in setting up their own traditions.