The great war of 1965
The Indo-Pak war
After the 1962 debacle India changed her national policy of "Non Aligned" and understood the importance of being prepared for war to get peace and hence fully prepared to meet any external challenges. So when Pakistan launched attack, Indian Army swung into action.
6 Mountain Division which had already moved to Ambala was ordered to go into offensive near Kathua, short of Jammu. The Division was already on wheels and hence moved immediately. My engineer unit had loaded size 4 small dozers on to 3 ton lorry to facilitate fast moving. But it was seen next day that lorry's road springs were upside down and tyres bulged out. Since the units had already started moving out, the Commanding Officer ordered me to get the machineries unloaded and book them through train to Pathankot and asked me join the unit later. One jeep was left for my use and the formation moved out. It was 03rd Sep and the war was on full swing. I completed the job at the Railways and started moving by Road.
When I reached Pathankot, it was under terrible air attack by Pak Saber Jets and the Indian troops were running helter shelter taking cover here and there. The Pakistanis were using medium machine guns fixed in the Aircraft and strafing there by killing those in the trenches also. I halted and ran for cover. The air attack lasted for 15-20 minutes and a break for some time as aircrafts return to the base and repeated it again. In the process of moving and then taking cover I was going ahead. But suddenly I was hit from unknown direction and I was thrown out of my vehicle.
The war of guts and determination
The Pak's strafing and air attack was not an aimed fire and hence Indian troops were hit indiscriminately and it was unfortunate that I was hit. I got up from where I was thrown with unbearable pain in the right leg. As there was no external wound I opened the right boot and stood up. Suddenly a jet of blood sprang just above right toe. Not bothered about this minor injury and as the air raid was over, I got into the jeep and started looking for my unit.
On 05 Sep I located the unit which was about to move to an area near samba. The CO was very sad to see that I was wounded and right leg swollen badly he asked me to report to military hospital immediately. I went to MH Pathankot which was flooded with war casualties. X-ray was taken on my right leg and declared that I had a fracture and I was admitted over there. The hospital was shaking up by the 130 mm shells of Pak firing. The Air field was next door to MH, Pak's firing on to the air field equally damaged MH also. Pakistan had dropped Para troopers to link up with ground attackers.
Since casualties were pouring in, MH decided to shift some of the light injured persons to down south hospitals. So, on 09th Sep special military casualty train carrying about 250 light injured persons, who could stand and travel, left Pathankot for Delhi. Needless to mention that I was also boarded this casualty train.
The Casualty Train
The casualty train from Pathankot started late night without light as war was going on full swing, including intermittent Air raids. It was something strange to travel in a 2nd World War type train with war wounded soldiers. The train reached Delhi on the 3rd day and was waiting in the platform as they were not permitted to get down.
The military hospitals in Delhi were over flowing with casualties. Casualty trains from Amritsar and Ferospore had earlier arrived and those persons were also unable to be accommodated in the same facility. So the authorities decided that the Pathankot train would be diverted to Lucknow. The train left Delhi for Lucknow. I was a walking wounded casualty and I had no belongings, not even another pair of dress as everything was with my unit. On reaching Lucknow we received a heroic welcome by the senior military officer and were accommodated in the military hospital. I purchased some essentials from military canteen and kept it in a towel. Since the hospitals were unable to handle the heavy casualties it was decided to send soldiers on sick leave especially those who don't require immediate medical attention. My name came in the first list and I was asked where I would like to go. I hailed from a village and how I could spend leave with a plastered leg. I wanted to go to Pathankot to my military unit. Authorities refused that as war was still going and I would have no alternative but to go to my village. I was discharged with 6 weeks sick leave and reached Madras on 15 Sep.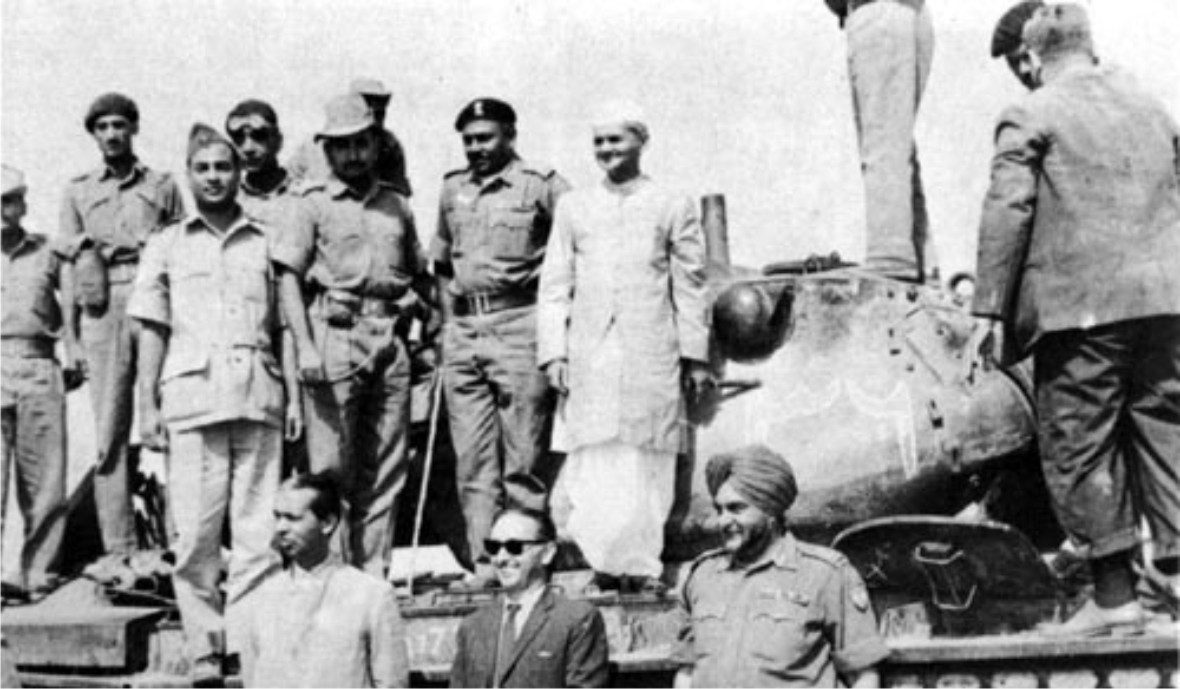 Bombing of Ambala - the war expanded.
The day I landed Madras, the Punjab city Ambala was bombed. But it was a desperate attempt by Pakistan as the war already was gone out of their hands and Indian Army was victorious in most of the places. India lost Chanb, Jourian the two villages across Munaver Thavi River. Over all India was on dictating terms. The war came to cease fire on 17th September.
I managed with great difficulty to spend my sick leave here and there moving with my plastered right leg. It was tough time to convince my mother that I had not lost my leg and it was only an injury. At the end of sick leave I reported to Military Hospital Madras. The plaster was opened, x-Rayed and was revealed a complete healing. Army had to convene a medical board and declare that I was medically fit. It was Diwali eve when I was in hospital and I wanted to go to my village and to show my leg to my mother that it was all intact. But medical personnel refused leave as I was a patient. I got a pass for 08.00hrs to 20.00hrs for two days. I requested the duty sister to manage one night between 2000hrs to 0800hrs and left for my village. I came back on the third day to hospital and was straight away under military arrest.
The duty doctor came around on the day I left for my village, found me missing. Since I was given out pass, the duty doctor directed the duty sister to report the time of my arrival. But unfortunately I did not return the whole night. In accordance with Military rules I was declared Deserter and accordingly telegraphic messages were sent to Army Headquarter and other places. I was shocked to know the mess I landed on and awaited for further orders. I was marched to commandant military hospital on a charge sheet. The commandant asked me as what happened. I explained the entire war scenario till I came to MH Madras and my mother's anguish about my leg. Since I was denied leave I had no option but to meet my mother as I would be going back to war zone on discharge from hospital. The commandant Lt. Col. Venkatachalam had a hearty laugh and shouted at those who did not give leave to me, especially when I had come from war zone.
I was discharged from hospital immediately and sent to my unit which by that time was near Sialkot-Pakistan.
In Enemy Territory - India in command
It was strange to note that some of the events were staged by the cosmic force only to educate and experience in a particular way. How I entered battle field and how I came out were events that were not normal.
As per Army procedure a casualty who left battle field and admitted to hospital was to be placed in reserve category and sent for training centre on discharge from hospital. Here in my case I should have been sent to Training centre i.e. MEG Centre Bangalore. But by mistake I was sent back to my unit which was in war zone.
When I was missing from military hospital a Deserter report was initiated and sent to all places. But when he reported back a Telegram was sent to all places requesting no action on the Deserter report. So when the Telegram reached to all places, they were wondering what all had happened. When I reported back to my unit my commanding officer welcomed, "Hallow! Deserter!" with a smile. So I had to explain too many officers about the past events.
Well! The war ended on 16th Sep 1965 and 6th Mtn. Division was deep inside Pakistan, few km short of Sialkot. I got into routine of Engineer tasks like water supply, electricity and Road Maintenance. In December 1965 I was selected for training in Roorki University and left the war zone.
On Kamaraj's initiative the external affairs minister Indira Gandhi was sworn in as Prime Minister.
I continued the course from Jan to April 1966.