The Early Days
The Birth
I was blessed to be born in an agricultural family of a village in Tiruvarur district named Sannanallur to my parents Pavadai and Deivanai on 01st December 1942. Readers may not only wonder about my name "Pavadai Ganesan" but also the person as such. It would be interesting if you could walk with me some seventy years back.
My father was named after the village Deity "Pavadairayan". And this is how it is carried forward with my full name. Sannanallur is the junction point of the north south road of Mayiladuthurai-Tiruvarur and east west road of Nagapattinam-Kumbakonam. A river called Mudikondan flows from cauvery branches off at Sakkottai near Kumbakonam and runs east towards Nagappattinam. Sannanallur is located on the northern bank of this river.
Childhood
The village is really a God's gift provided you understand the value of this gift. We had everything what nature could provide at that time. I grew up in the company of brothers & sisters. We also had Poultry, Goats, and Cows & Buffalos at home. We had dry & wet lands. We also employed few servants who took care of the daily routines required to maintain land and domestic animals. The irrigation was mainly from seasonal river flow and canal system. We produced paddy, all types of vegetables, few cereals, coconut, and banana. Bamboo farms were also there. We ate non-vegetarian food in general. There was no dearth of food items in our village. But one had to choose and try.
The child is the father of the man
Life is to be lived and not spent. As mentioned in my blogs "Village is full of life inviting you to learn the art of living" especially in childhood days. I use to think in the following lines about our wonderful village life.
What a life it is, when you have the plenty of water flowing in rivers & canals, and overflowing in tanks & lakes and you do not know swimming!
What a life it is, when you have domestic animals all around but you do not know how to feed them, milk them, make curd, buttermilk and butter etc.!!
What a life it is, when many trees are all around and you do not know to climb onto it!!!
What a life it is, when all water bodies are full of life with varieties of fishes and you do not know how to catch a single fish!!!!
What a life it is, when the rats play havoc in your agriculture field and you are helplessly watching it!!!!
Just think what a life it is, when abundant resources are there in one hand and there are no skills to make use of it on other hand. Doesn't one feel shame to be born as human being, assuming one is not a handicap and one is not skilful enough to live a life what is expected out of every individual by nature in the above situations? But it is very sad that there are millions of people spending their lives in villages but do not know any of the village crafts.
As a fortunate one, I naturally acquired this skill and became master of village crafts by being brought up in the wonderful village circumstances. My school was 5 km away from home and for 6 years I had walked up and down. Hundreds of agricultural activities from preparing the fields to harvest were known to me at that age. In all I grew up as a son of this Soil.
Schooling
Around the years from 1945 to 1946 there was an elementary school very close to my house. There were classes up to 5th standard. I started schooling in June 1947. When I was in third form, I was promoted to 4th after half yearly exam and moved to 5th form after the annual exam. This double promotion made me comparatively younger to all my classmates. From 6th Standard to 11th Standard I studied at Board High School, Nannilam. The pattern of education in those days was to go for schooling up to 11th standard and then 2 years intermediate and then 3 years graduation. In the year 1957 intermediate was abolished and pre-university course (PUC) was introduced.
As you aware of Mudikondan River which is a seasonal river and water flows in June-July when released from Grand Annaicut dam and dries off in Jan-Feb when Mettur dam is closed. I used to walk along this river bank for 5 km one way. Those days, playing in water in winter and on the sand in summer with my school mates was a common site. The sides of road had trees with full of fruits like Black Jamune, Mango. Tamarind, Coconut, Palmyra etc. I could climb all such trees. A group of boys who could not climb trees usually joined me to get the fruits. Game like cricket was unknown to me till the age of 15-16. However I was good in all village games like Kabadi, Gilly-danda, and Marbles etc.
I passed SSLC in March 1958 and there started another chapter of my life.
Reflections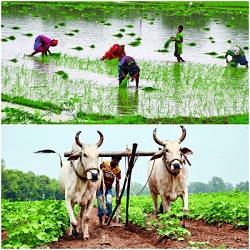 "If India is the spiritual country of the world, then Tamil Nadu will be the Head Quarters to it. Agriculture is the backbone of Indian economy as India lived in villages."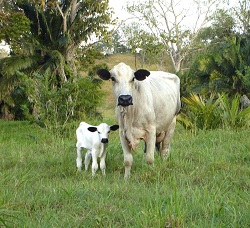 "The prosperity of village was explained by yesteryear's poets like this - The cows and buffalos were taken to the tanks for a wash and swim. While they were in the water, fishes in the pond bit the animals here and there. Thus it would trigger a thought and feeling that calf was trying to drink milk, the animals started responding to feed and milk started oozing out. As the animals got out of water and walked back home, the street was flooded with milk".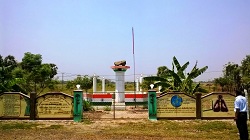 "No wonder, the noble earth of Sannanallur was sprinkled around at South Pole in the later part of my life."